In their applied Organizational Development course during their final semester, IOHRM graduate students work with organizations in the region to improve their processes.
This year, one team is addressing the multiple challenges that accompany an organization's growth phase. The host company is a global consultancy operating in the industrial-organizational psychology space. Specifically, this group will target the way in which teams are staffed while considering various group goals. This is important because as their workforce expands, the need for standardized processes is illuminated. With a focus on the systematic and cultural components of the organization, this team has identified opportunities for the host company to signal their values, develop lower-level employees, and meet client needs through this process.
Another team is working with the health and safety division of a global manufacturer to develop improvements to the data measurement system. They believe that these improvements will lead to the sharing of more reliable data across the organization. This data can be analyzed within the safety department to identify risks and hazards and mitigate injuries and fatalities. In addition, if this data is shared more broadly across departments, it can increase the efficiency of other functions, like maintenance, production or human resources. For example, the organization will be able to use the data to predict when preventative maintenance will be required, what production needs may be during a season, or forecast staffing needs, which will drive the organization's value of delivering high quality, customizable products.
The third team is working to redesign a wellness program for a local manufacturer. A well-implemented employee wellness program can set the company apart as an employer, by signaling to current and potential employees that the organization can provide resources to them that other companies, who are competing for labor, will not. Additionally, by providing resources to their employees that help improve mental, physical, and financial areas of wellness, the company can benefit from outcomes such as decreased absenteeism (from sick days), increased retention, and lower insurance costs company-wide.
The final team is working with a software company to assist with their hardware repairs and returns division. Customer interface within this particular process is one in which customers are in a current state of dissatisfaction, and the ability to efficiently remediate this issue is essential to establish and maintain long-term relationships with customers. Additionally, given that this process is a cost center for the organization, efficient processing means reduced internal labor cost. With this in mind, the team is working to find areas of improvement in this process that will drive value both for customers and the organization.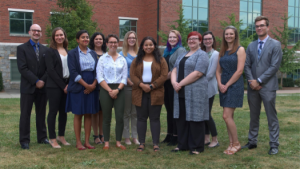 Tags: