Course of Study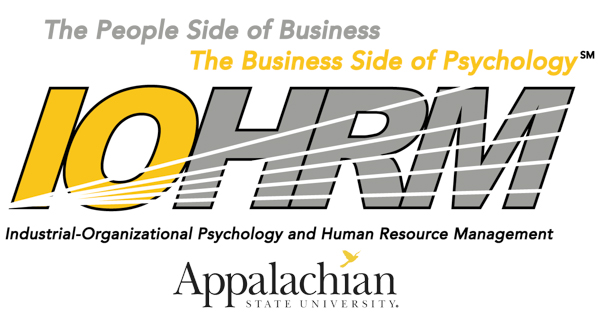 At Appalachian State University, the IOHRM program consists of 51 semester hours of graduate course work. The program is structured for full-time residential students (i.e., students should plan to live in Boone or its immediate vicinity). The typical student takes two years to complete the program.
Students enter in the fall of their first year and graduate in May or August of their second year. Students generally do internships during the summer between the first and second year.
The policies and requirements for earning the Master of Arts in Industrial-Organizational Psychology and Human Resource Management are articulated in the Department of Psychology's Graduate Student's Handbook, and the University's Graduate Bulletin
Undergraduate Prerequisites (6 hours)
General Psychology (3)
Introductory Statistics (3)
Required Courses (51 hours)
Psychology Core (6 hours):
PSY 5020 Research Methods (3)
PSY 5030 Quantitative Methods (3)
Functional Interdisciplinary Core (30 hours):
PSY/MGT 5045 Introduction to Human Resources and Professional Issues (3)
PSY/MGT 5040 Employment Law (3)
PSY/MGT 5160 Strategic Human Resource Management (3)
PSY/MGT 5672 Advanced Organizational Psychology (3)
PSY/MGT 5065 Organizational Development (3)
PSY/MGT 5660 Staffing (3)
PSY/MGT 5661 Performance Management (3)
PSY/MGT 5671 Training & Development (3)
PSY/MGT 5570 Compensation (3)
PSY/MGT 5055 Leadership, Groups, and Teams (3)
Other Requirements (6 hours):
PSY 5998 Thesis Proposal (3)
PSY 5999 Thesis (3)
OR
PSY/MGT 5900 Internship (6)
Electives (9 hours):
Students may generally take any electives that are relevant to the program. Students should select electives to develop an emphasis in some area of career preparation. The following is a listing of selected electives:
MGT 5770 Business Ethics
MBA 5110 Economics for Decision-Making
MBA 5320 Managerial Accounting
MBA 5600 Managerial Finance
MBA 5680 Six Sigma, Lean, and Quality Management
MBA 5750 Strategic Management
MGT 5630 Employee and Labor Relations
PA 5360 Public Personnel Administration
PA 5460 Budgeting and Fiscal Administration
PSY 5070 Organizational Behavior Management
Other electives approved on a case-by-case basis when they meet a student's professional development interests.
Additional Important Information
Transfer Credits
Students may transfer up to eight (8) semester hours of appropriate graduate credit from an accredited college or university that offers a Masters degree in Psychology, provided that students have earned at least a grade of "B" these courses and that the courses will not be more than six (6) years old at the time the degree is awarded. Transfer credits should be approved by the student's advising committee prior to the student's enrollment in the program.
Undergraduate Coursework
All coursework must carry graduate course numbers (5000 and up). Graduate students may not include undergraduate coursework in their graduate program. Students cannot obtain transfer credit for upper-level undergraduate coursework.
Recommended Course Sequence
Students generally take 9 to 12 hours of coursework per semester. While there is some flexibility, students are strongly encouraged to adhere to the following recommended course sequence:
Fall Year 1
PSY 5020 Research Methods
PSY 5045 Intro to HR & PI
PSY 5672 Advanced Organizational Psychology
MGT 5040 Employment Law
Spring Year 1
PSY 5030 Quantitative Methods
MGT 5671 Training & Development
MGT 5660 Staffing
Elective
Summer
Fall Year 2
PSY 5661 Performance Management
MGT 5570 Compensation
Elective
Elective
Spring Year 2
PSY 5065 Organizational Development
MGT 5160 Strategic HRM
MGT 5055 Leadership, Groups, & Teams
Elective
PSY 5011 Teaching of Psychology (1 SH) should be taken in the Spring of the first year and Fall of the second year by students who intend to teach in their second year (hours do not count towards MA in IOHRM).
Thesis and Internship Information
Students electing the internship option are strongly encouraged to take the internship during the summer between the first and second year. Students electing the thesis option will normally register for thesis credit during their second year on campus. However, students are advised that the development of the thesis is an ongoing project that should be initiated as early in the program as possible.
Comprehensive Examinations
The Oral Comp Exam is a broad based exam that will test the depth and breadth of students' knowledge based on the coursework they have taken. Students will be provided a list of questions representative of the content for which they should be prepared. Students will receive the question set from the Program Director at the beginning of the Spring semester.
The examining committee consists of three faculty members, not selected by the students, and lasts 1 hour.
The Program Director shall be responsible for establishing a schedule of possible examination times and locations. Students shall be responsible for scheduling their exams, selecting from the options available
Second year students must have a successful Oral Comp Exam outcome by the thesis defense date for May degree conferral.
For students completing a thesis, the Thesis Defense will serve as the Comprehensive Exam. See Thesis Information for additional details.
Admission to Candidacy
Admission to Candidacy is required. Students may request to be considered for candidacy after one semester of successful graduate study in the program and before the completion of the third semester after starting the program. Admission to Candidacy is contingent upon the recommendation of the IOHRM faculty and may be denied or revoked for reasons such as poor academic performance (i.e., 2 or more courses at the C level), unprofessional or unethical behavior, failure to successfully complete the internship, or violations of the Academic Integrity policy.