Applicant Decision Making Lab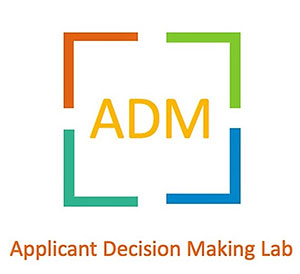 Applicant Decision-Making Lab investigates the process trough which an employment relationship begins from the applicants' perspective. Specifically, we examine issues surrounding applicants in job search, employment testing, job offer stages of pre-employment including, but not limited to, their reactions to organizational practices and how they evaluate job offers.
Mission
The mission of Applicant Decision-Making Lab is to research and interpret issues surrounding the process through which individuals look for jobs and evaluate job offers from a psychology perspective. Members of the lab work together as a team, combining their diversified experiences and knowledge, to extend our understanding of business psychology and apply these new insights to the process through which an employment relationship begins. Within the Lab's field of study, the emphasis is on researching various issues relating to job applicants' perspectives and their decision-making process. Our objective is providing companies with a better understanding of their applicants to further their knowledge regarding future candidates.
Past Team Members
2017 - 2018
Connor Treyball, Assistant Director
Daniel Sumner, Lab Member
Elise Haylett, Lab Member
Jarod Fyler, Lab Member
Caitlyn Nearhood, Lab Member
2018 - 2019
Devon Hickman, Assistant Director
Aaron Durand, Team Member
Ashley Williams, Team Member
Erich Iverson, Team Member
Qiqi Wang, Team Member
Zhen Graham, Team Member
Current Team Members
2019 - 2020
Catherine Meyer, Assistant Director
Brianna Crowson, Team Member
Bryce Davis, Team Member
Zhen Graham, Team Member
Ashleigh Knight, Team Member
Jacob Leslie, Team Member
Daniela Miranda-Hernandez, Team Member
Current Study
Examining the Relationship between Applicant Reactions and Selection Test Performance: Is the Relationship Curvilinear?
In our current study, we are exploring the relationship between applicant selection test anxiety and performance on a selection test. Specifically, we have hypothesized that the relationship between selection test anxiety and selection test performance is curvilinear, such that very low anxiety and very high anxiety during a selection test will lead to poor performance, while moderate levels provide the most optimal performance. We are utilizing a true experimental design, which is rarely used in anxiety research, in order to provide a more robust test of the relationship between selection test anxiety and performance.
Past Research
Job Choice Decision Making Strategies - This study focuses on job choice decision making strategies used by potential applicants. Specifically, in order to understand how job seekers make decisions, we are investigating what cognitive processes and evaluation techniques are used when making an evaluation in a multi-attribute decision situation (such as a job offer). Learn more