It is becoming routine for employees and students to say "these are unprecedented times," but they truly are. Many classes at Appalachian State University have had to alter their curriculum in response to the current crisis. IOHRM graduate students, in their capstone Strategic Human Resources course, have diverted their attention to addressing complex HR problems facing the workplace due to COVID-19, and they have produced a series of videos to guide practitioners.
In the first video release, graduate students Tara O'Neil, Soundarya Kanthimathinathan and Philip Hinson share the implications of the novel coronavirus on healthcare organizations, specifically their HR functions. The 50-minute video includes a background on pandemics (2:23), an overview of the United States healthcare system (8:20) and change management advice (18:10). The students then discuss the variances in staffing (31:54), compensation (37:14) and training (44:13) and why some systems might fare better than others.
In the second video in the HRM Solutions to COVID series, Maira Compagnone, Bill Griffin and Erin Marion offer guidance for managers on effective teleworking practices, noting that the percentage of employees doing telework has recently jumped from 27% to 88%, and 76% of managers report problems with the shift. The IOHRM graduate students discuss how to support workers at home (5:30) and how to navigate telework performance management (16:38). The students also examine HR responses to technology and security issues, like Zoom-bombing (39:00), and emerging tips and tricks like using web conference platforms for video signatures to speed up document approvals.
In the third video in the HRM Solutions to COVID series, students Darby Ford, Jessie Harris and Lindsey Wuerfel provide a background of the current status of manufacturing. The researchers offer advice on managing employee concerns versus business needs (5:30), overview the current health guidelines (6:34), discuss preventative strategies (7:33), and consider how to best deal with uncertainty (12:33). The students also predict how the future of manufacturing may be changed by COVID-19, addressing adaptive performance (22:18), data and technology (23:30), product lines (25:49), workflows (27:42) and the role of HR.
Stay tuned for the release of additional videos!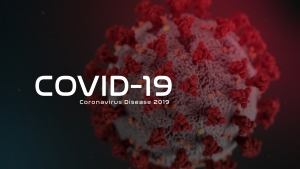 Tags: