IOHRM graduate students and faculty, along with undergraduate members of the HR Science Research Team and various research labs, attended the River Cities Industrial/Organizational Psychology Conference at the University of Tennessee Chattanooga. This year's conference theme was applying I/O Psychology to enhance the value of data analytics.
Dr. Shawn Bergman delivered the keynote presentation on how I/O Psychology training has prepared us to handle the big, complex world of data analytics. The attendees of the conference were impressed by all the energy, engagement, and applicable content Shawn brought to the conference. In addition, second year graduate students Maira Compagnone, Jessie Harris, and Philip Hinson and faculty member Dr. Yalcin Acikgoz presented in a breakout session about how to advance HR analytics using top trending technologies like Hadoop and PowerBI.
IOHRM students Kari Scholten and Lindsey Wuerfel took home a second place award for their poster and research on teacher morale and burnout. Other poster topics included pencil whipping and mandatory quotas in occupational health and safety, evaluation of math interventions, sustainability trends and millenial attraction, relationship between anxiety and performance in pre-employment assessments, development of a new assessment to measure impression management, how individuals from different cultures react to pre-employment social media screening, and how psychology majors can better communicate their skills.
A huge shoutout and thanks to the I/O Psychology program at UT Chattanooga for a great and successful conference!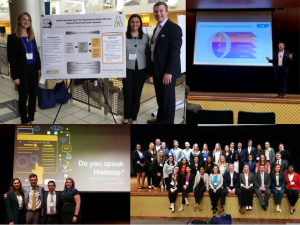 Tags: