IOHRM graduate students and faculty led the inaugural IOHRM Virtual Interest Session this week. Forty-three prospective students for the classes of 2024-2028 pre-registered to attend this session that had both professors and current students eager to speak about the program, its benefits, and answer any questions about the program or applications.
Dr. Timothy Huelsman delivered an overview of IOHRM program covering how our program is unique; we have been distinguished as a top-tier graduate program; our "Big 3" values of cooperation, responsibility, and engagement; the opportunities for applied experiences and research; the career outlook and alumni information; and an overview of the curriculum with opportunities for combined degrees. The prospective students were impressed by the prestige of the program and the ability to customize one's time in the program with the numerous applied experiences available and additional education.
Upon conclusion of the presentation, everyone went into Class of 2021 or Classes of 2024-2028 breakout rooms with panels to answer questions. A huge thank you to the current faculty Dr. Timothy Huelsman and Dr. Shawn Bergman; second year students Samuel Biggs, Shamin Jamadar, and John Lang; and first year students Braxton Lee, Jenna Hochstetler, Andrew Webb, Jacob Ledford, Mirenda Mason, Ashley Rankin, Haley Henderson, and Riggs Matthews for participating as panelists in both breakout rooms. The session lasted for over an hour with prospective students being passionate with their thought-provoking questions and wanting to hear in-depth about current experiences with the HR Science Team, Beans2Brew, SHRM, assistantships, and internships.
This was a huge success for the first interest session! Upon conclusion, one attendee shared, "Last night made me more excited about the prospect of joining such a supportive and collaborative family as evident by the warm interactions between the cohorts and faculty." From all of us in the IOHRM program, we look forward to seeing what the next few months bring and welcoming our future IOHRM classes. If you did not make the interest session this time, please feel free to reach out to any of the current students or faculty to help answer your questions.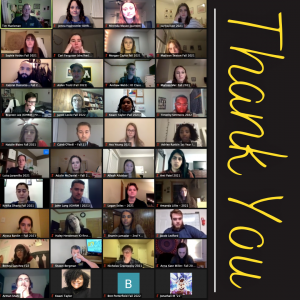 Tags: