The IOHRM Program has always greatly valued their ability to maintain connections with alumni of the program. The Alumni Mentor Program is back to do just that! As part of the Intro to Human Resources and Professional Issues class, taken during students' first semester here, each first-year student will have the opportunity to interact with esteemed alumni who have graciously volunteered their time.
Each student is assigned to an Alumni Mentor who, during the semester, helps perfect resumes, create career development plans, and provide general advice about the IOHRM program experience or graduate school in general. Having a mentor who has been through the IOHRM program is an invaluable experience and will provide new students with a fantastic professional resource.
The program has seen great success in the past and promises to be another exciting opportunity again this year. A big thank you to all alumni currently involved in this program!
Pictured from left to right:
Top: Ryan Felty, Stacey (Bumgardner) Hussey, Elma (Dostovic) Lloyd, Dea Kamberaj
Middle: Laverne Hibbert, Morgan Jewell, John Misenheimer, Jennifer (Houseworth) Cline
Bottom: Kristen Kauffman, Jessica New, Cynthia K. Miller, Beth Herron
Not Pictured: Kate Thompson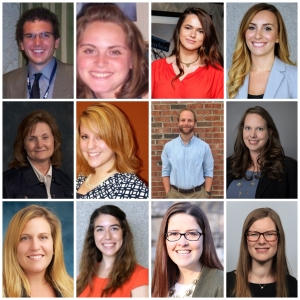 Tags: